Visa d'or - Daily Press Award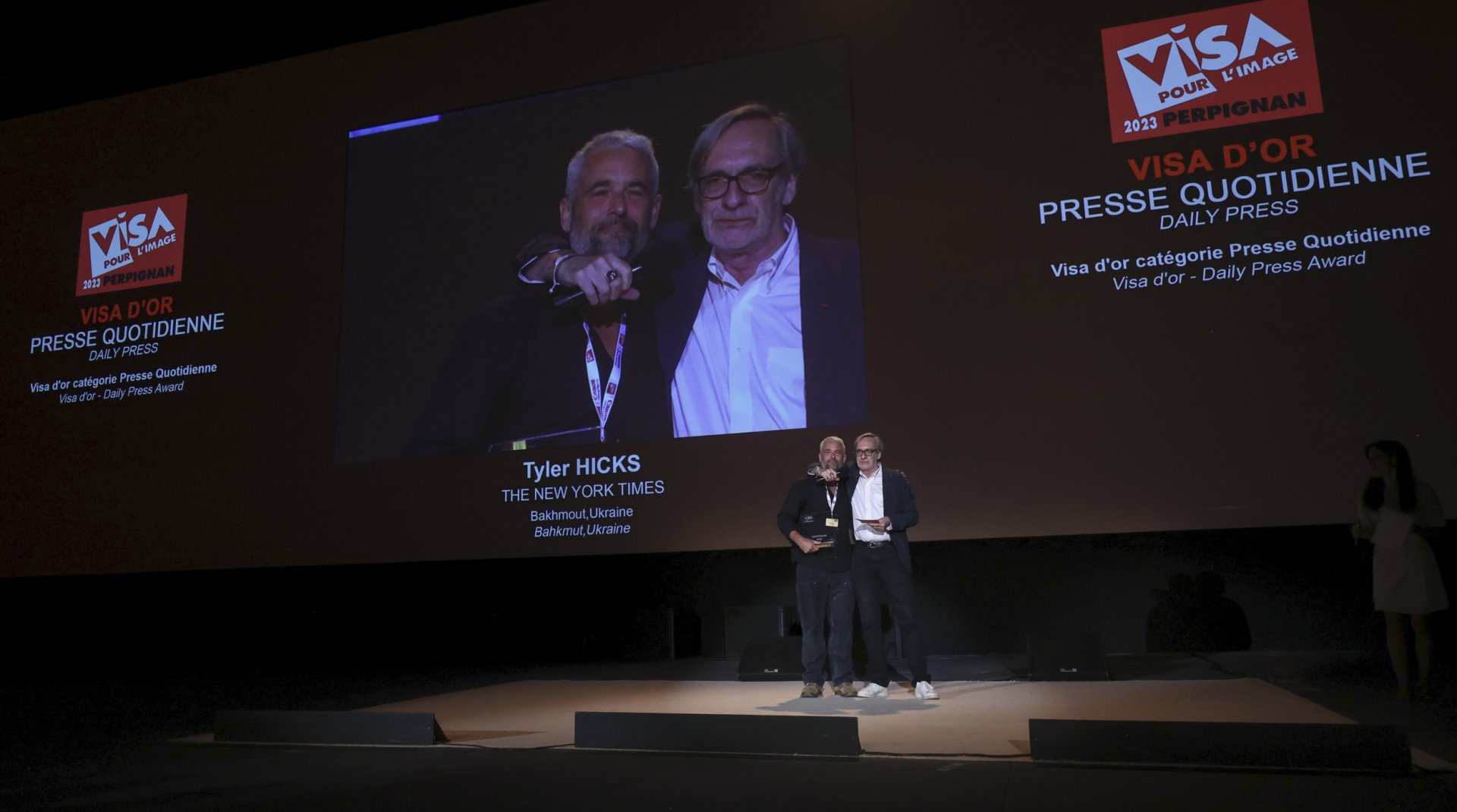 Sébastien Riotto
Since 1990, the Visa d'or Daily Press Award has been given for the best report of the previous year published in the daily press in any country around the world.
The prize is open to all daily newspapers around the world.
Entries were received from 21 newspapers. The Visa d'or has been awarded to the American newspaper The New York Times for the report by Tyler Hicks on Bahkmut, Ukraine.
The jury chose to award a special mention to the report by Greta Rico presented by CNN.
Information:[email protected]
Award winners
2023

The New York Times (USA) Tyler Hicks
2022

Politiken (Denmark) Mads Nissen
2021

Berlingske (Denmark) Asger Ladefoged
2020

CNN.com (USA) Rosem Morton
2019

Libération (France) Francesco Anselmi
2018

Libération (France) Sergey Ponomarev
2017

Helsingin Sanomat (Finland) Sami Kero
2016

Dnevnik (Slovenia) Jaka Gasar & Bojan Velikonja
2015

The New York Times (USA) Daniel Berehulak
2014

Helsingin Sanomat (Finland) Meeri Koutaniemi
2013

Helsingin Sanomat (Finland) Niklas Meltio
2012

The New York Times magazine (USA) Tomas Munita
2011

International Herald Tribune (USA) Shiho Fukada
2010

La Croix (France) Frédéric Sautereau
2009

Los Angeles Times (USA) Barbara Davidson
2008

Dallas Morning News (USA) Mona Reeder
2007

Reforma (Mexico) Israel Rosas, Luis Castillo, Jorge Luis Plata, Julio Candelaria - Riots in Oaxaca
2006

El Periodico de Catalunya (Spain) Sergio Caro
2005

Politiken (Denmark) Jan Grarup, Darfur
2004

El Comercio (Peru) Daniel Silva - Footballers, Andes, Peru
2003

The Dallas Morning News (USA) Cheryl Diaz Meyer - Operation Iraqi Freedom
2002

La Dépêche du Midi (France) Thierry Bordas
2001

Berlingske Tidende (Denmark) Erik Refner
2000

The Washington Post (USA) Dudley M. Brooks
1999

Berlingske Tidende (Denmark) Klaus Bjorn Larsen - Kosovo
1998

La Vanguardia (Spain) Kim Manresa - Excision in Africa
1997

Clarin (Argentina) Cabezas
1996

The Herald (Scotland) - Dunblane
1994

Detroit Free Press (USA)
1991

Le Courrier de l'Ouest (France)

1991

Le Progrès de Lyon (France)