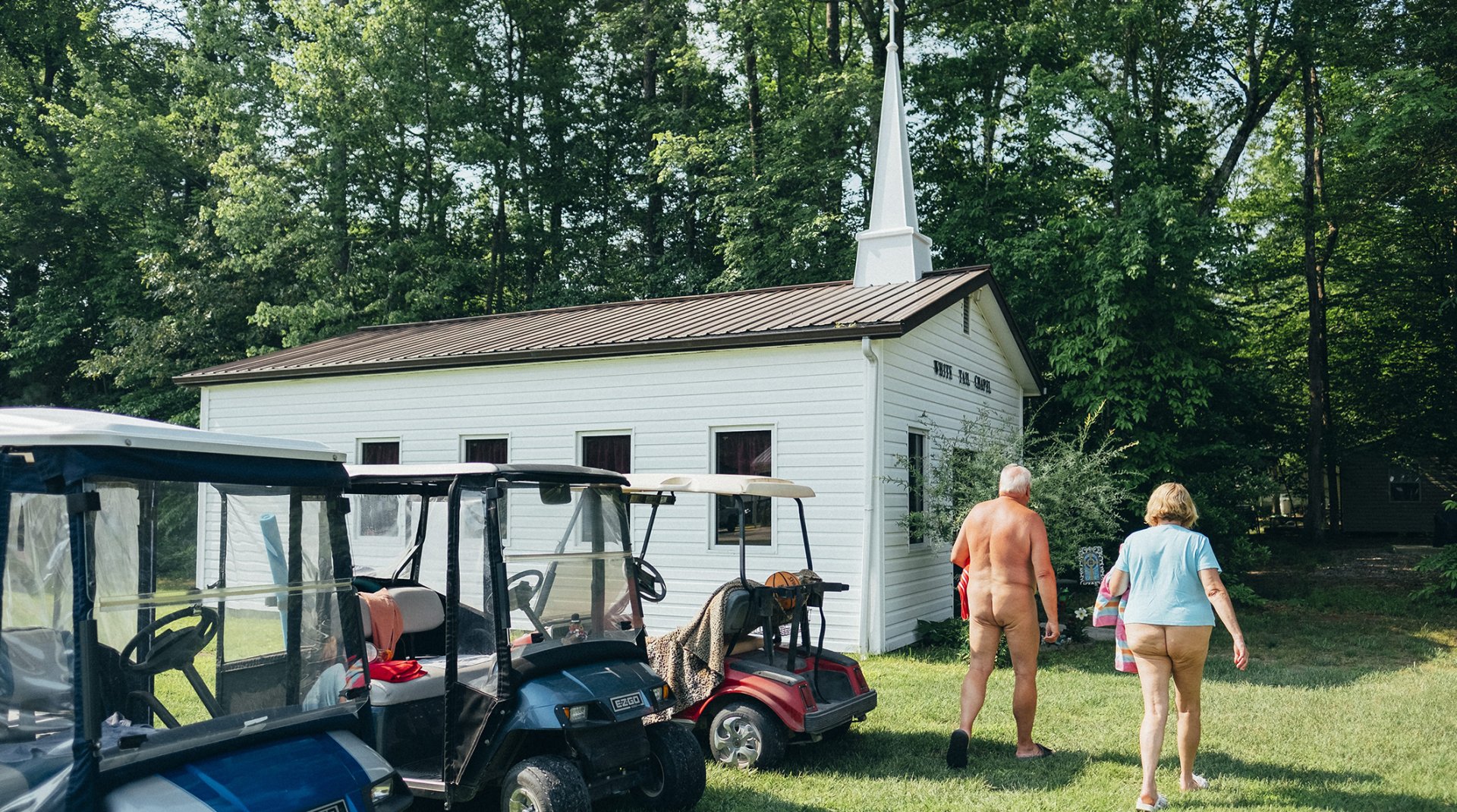 In God We Trust
Cyril Abad
Hans Lucas
"In God We Trust" is a journey around the United States discovering eccentric ways of practicing religion. After the election of Donald Trump, who registered 80% of the white evangelical vote, I wanted to explore aspects of American society as seen through religion.
More than 70% of Americans say they are Christian, but according to a recent survey, 23% belong to non-denominational churches, i.e. not linked to any widely recognized religion. Of the 350,000 different congregations in the country, I discovered some that have opted for highly original and creative ways of attracting followers.
"In God We Trust" shows how the Protestant Church has developed and innovated, adopting free-market principles to open up new niche markets in spiritual beliefs. Here is a journey to see ministers of religion and congregations with a difference.
Cyril Abad
The Naked Church
In the middle of a forest in Virginia, less than two hours from the capital, Richmond, a small community decided nearly thirty years ago to lead a life far removed from material concerns, and adopted nudism as their lifestyle. They then felt the need to practice their faith according to the same principles. They built a chapel and set off to find a pastor who would celebrate the religious service without the burden of clothes. Today, two pastors who minister to their own conventional congregations at other times, take it in turns to conduct the weekend service, and the minister delivers the sermon as naked as the day he was born. As Pastor Allan Parker explains, it is perfectly logical: "If God created us like this, in His own image, how can this be wrong?"
The Holy Land Experience
Welcome to the Holy Land Experience, the 100% Bible theme park, in Orlando, Florida, the city usually associated with Disneyland. "Expect to be inspired!" The message is ambitious for the theme park which presents visitors with different stories from the Bible. The park, which is owned by TBN, an evangelizing Christian network broadcasting internationally, provides a unique, albeit kitsch, experience, being both a historical anachronism and a business venture built around re-enactments of bible stories. There is the small-scale city of Jerusalem, there are illuminated manuscripts, and a range of attractions in mock temples and grottos, plus the live presentation of the Passion of Christ.
Ark Encounter Welcome to Ark Encounter, the theme park for creationists, and the latest tourist attraction in Williamstown, Kentucky. It is, quite simply, a reproduction of Noah's Ark: an exact copy, according to the ark-builders who are Christian fundamentalists belonging to the group "Answers in Genesis" and believing in a literal interpretation of the Bible. The vast construction, over 150 meters long, has a total surface area of 10,000 square meters, and was built as a life-size Ark of "biblical proportions." It stands as a shrine to creationism, the doctrine stating that six thousand years ago God created the Earth and all living creatures on Earth, and in six days.
The Drive-In Christian Church At the Daytona Beach Drive-In Christian Church in Florida, the faithful can pray without having to leave the comfort of their air-conditioned vehicles. The Disciples of Christ have been gathering for 63 years, but today there are no more movies at the drive-in. Every Sunday morning the Drive-In Christian Church has two services, and, come rain or shine, the cars pull in and park in front of the altar placed high on a balcony, and they can listen to the sermon broadcast on a special radio frequency. Elsewhere churches may be losing parishioners, but here more than 600 attend services every weekend, relaxed and snug in their cars; some are still in their pajamas, while others are dressed ready for the beach. They come and go as they wish, can bring their pets too, and remain safely in the privacy of their own vehicle.
The Cross Bike John, who lives in Berlin, Maryland, is an ardent Christian. He works for the City Council of Ocean City, and was once a professional cyclist. In his dreams he came up with the idea of combining his love of cycling and his mission on Earth as a good Christian. So, with the help of God, so he says, he built his "Cross Bike." After work, he gets on his unusual bicycle and goes through the streets of Ocean City spreading the word of God. He finds that it is a perfect way to strike up a conversation as people stop and look at the Cross Bike, are amused and then talk. During the Easter vacation (the Spring Break for students), he does the rounds of Ocean City, warning young people about the dangers of alcohol.
The Tiny Mobile Church Since Bill Malbon retired from his job with the State of Virginia, he has been busy working as a pastor, and in fact had already been conducting weddings since 1992. In 2005, he had the bright idea of building a small mobile church. It has a total floor area of just 30 square meters, but is designed in the architectural style of a traditional country church, complete with Gothic windows and a bell-tower. There is no sign of any religious affiliation, so the non-denominational church can be used for marriage ceremonies for all religions. Pastor Bill Malbon now travels around with his little chapel, stopping in country towns in Virginia and offering weddings both original and affordable.
Seacoast Church In Mount Pleasant, a suburb of Charleston, South Carolina, is Seacoast Church, a large non-denominational church founded in 1991. Greg Surratt, the founding pastor, turned down offers from evangelical churches and decided to set up his own independent campuses, introducing the idea of live broadcasts of religious services on a large screen. At first the parish had only 200 followers, but now there are twelve Seacoast campuses in North and South Carolina, and more than 15,000 attend the services. Not only does Seacoast convey the messages of the Bible, but it also appeals to non-believers interested in belonging to something but without any proselytizing, and with practices far removed from conventional religious rituals. Families come to a campus where there are child-minding facilities with games and lessons for the children, while the parents follow the service. The original Mount Pleasant campus even has a Starbucks café, and a (religious) bookshop.