Transmission pour l'Image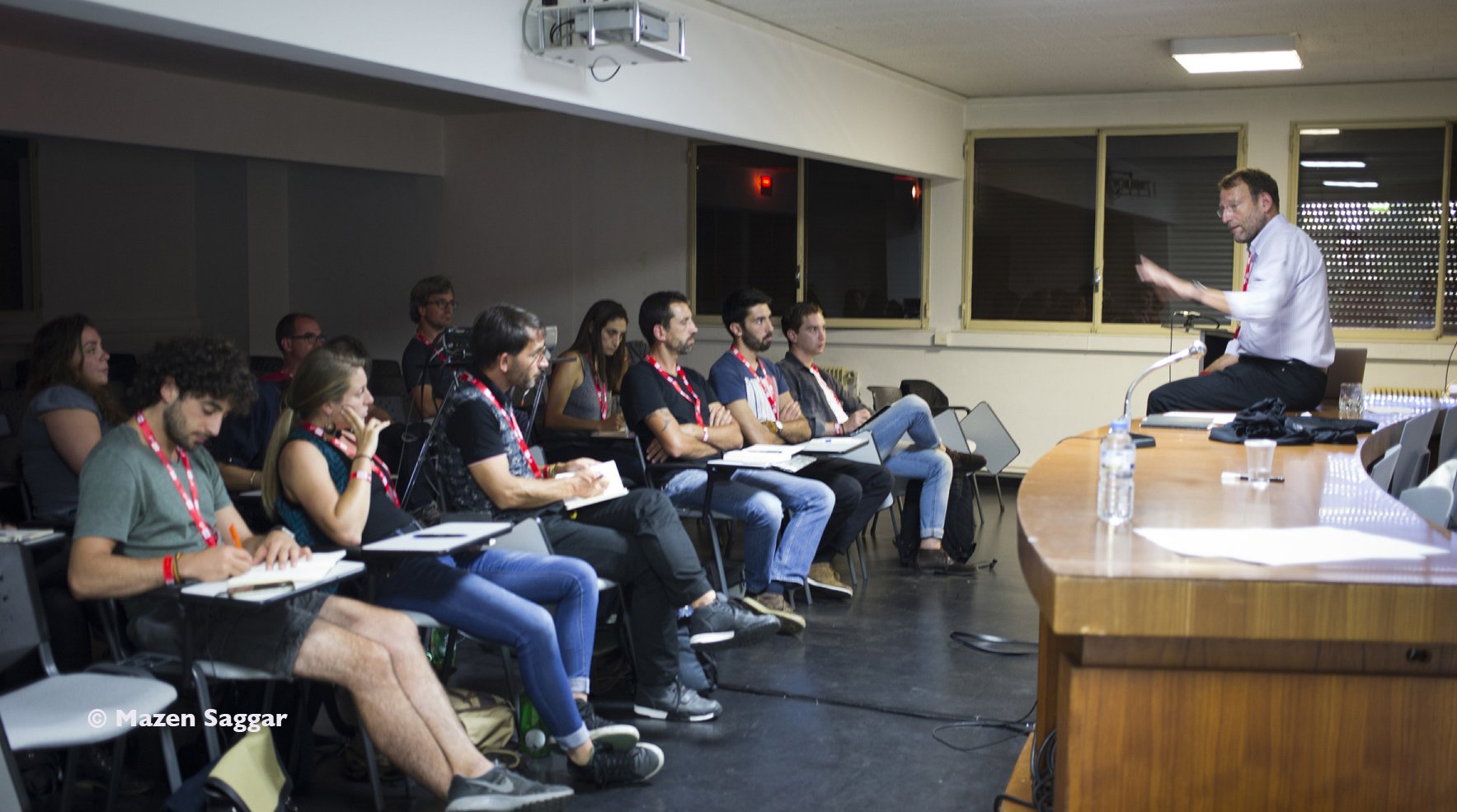 From September 3 to 5, 2018 3 days Direct contact Talking to people Hearing about their experiences
Information and applications before July 1, 2018: sylvie.grumbach@2e-bureau.com +33 1 42 33 93 18
Transmission pour l'Image is a forum for meeting and discussing, and most importantly it is for "transmission" from one generation of photojournalists – those who were and still are with us behind the adventure of Visa pour l'Image – handing on their knowledge and know-how to the next generation. Transmission is not a course on how to take pictures – quite the opposite. It is the photographers and picture editors who take the time needed to talk about their work and the choices they have made, who explain how they have produced, chosen, published and sold their pictures.
Transmission is here so that young photojournalists can take on and carry on the values that are the basic principles which Visa pour l'Image has always believed in.
The first ten applicants will have the privilege of being part of this full-time experience over three days, listening, talking and learning with professional mentors.
João Silva will be running Transmission pour l'Image and has invited eminent figures to form the team with him.
JOÃO SILVA - photographer, The New York Times Joao Silva, a member of the famous Bang-Bang Club, has covered many wars and conflicts over the past twenty years; he was seriously injured in Afghanistan in October 2010.
PATRICK CHAUVEL - war photographer, documentary film-maker and writer
He started as a young man in Vietnam and has continued through to Libya, covering many wars and conflicts, producing extensive photographic and documentary coverage.
MARYANNE GOLON - director of photography at The Washington Post Before joining The Washington Post, MaryAnne Golon was with Time Magazine, working with Michele Stephenson for more than twenty years. She was director of photography at Time Magazine until June 2008, and was based in Dhahran during the First Gulf War. MaryAnne played a key role in some of the magazine's iconic cover photos, and for sixteen years coordinated the team of photographers
MICHAEL KAMBER - photographer Michael Kamber has worked as a writer and photojournalist for 25 years. Since 2001, he has worked primarily as a conflict photographer, covering a dozen conflicts. Kamber worked as The New York Times' chief photographer in Baghdad in 2007, the bloodiest year of the Iraq War. He covered Iraq for a number of years for The New York Times which nominated him for the Pulitzer Prize for his photographic coverage of Iraq. He is the founder of the Bronx Documentary Center, a gallery and educational organization dedicated to documentary film and photography.
CHRISTOPHER MORRIS - photographer Noted, inter alia, for his coverage of the Balkans and work on the US elections. He is one of the founding partners of the agency VII.
VÉRONIQUE DE VIGUERIE - photographer The French photographer Véronique de Viguerie spent three years living and working in Afghanistan. Since 2006, she has been travelling the world covering international events (in Iraq, Somalia, Mexico, Lebanon, Algeria, Niger, Mali, Syria, Yemen and more). She is based in Paris, and is represented by The Verbatim Agency.
PEDRAM YAZDI - photographer and communication officer with the International Committee of the Red Cross (ICRC) in Kinshasa, Democratic Republic of the Congo (DRC). Pedram Yazdi was born in Tehran, Iran, in 1963. He has lived in France, Sri Lanka, Nepal, Tajikistan, Liberia, Kenya and the DRC. He has more than twenty years experience in humanitarian action with the ICRC, and has been acclaimed for his work on little known crises, such as the conflicts in Somalia and the DRC.
Fees: €500 (Enrolment includes accreditation + Visa "professional" badge). Accommodation not included
TRANSMISSION will be conducted in English.