Transmission pour l'Image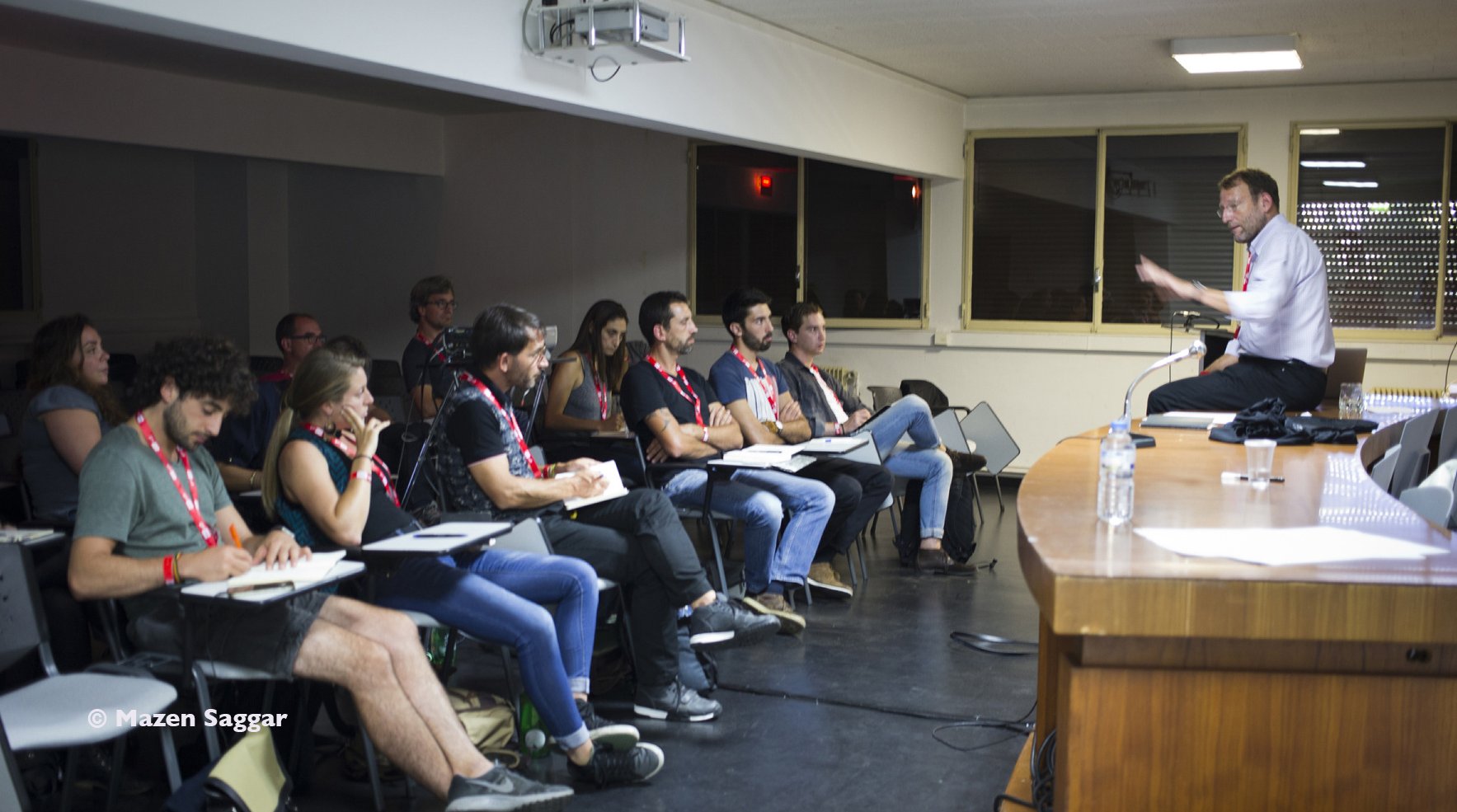 From September 4 to 6, 2017 3 days Direct contact Talking to people Hearing about their experiences
Information and applications: sylvie.grumbach@2e-bureau.com +33 1 42 33 93 18
Transmission pour l'Image is a forum for meeting and discussing, and most importantly it is for "transmission" from one generation of photojournalists – those who were and still are with us behind the adventure of Visa pour l'Image – handing on their knowledge and know-how to the next generation. Transmission is not a course on how to take pictures – quite the opposite. It is the photographers and picture editors who take the time needed to talk about their work and the choices they have made, who explain how they have produced, chosen, published and sold their pictures. Transmission is here so that young photojournalists can take on and carry on the values that are the basic principles which Visa pour l'Image has always believed in. The first ten applicants will have the privilege of being part of this full-time experience over three days, listening, talking and learning with professional mentors.
This year, João Silva will be running Transmission pour l'Image and has invited eminent figures to form the team with him.
THE 2017 TEAM
PETER BOUCKAERT - Emergencies Director of Human Rights Watch Peter Bouckaert is an expert in humanitarian crises and a veteran with experience of fact-finding missions to many countries, including Lebanon, Kosovo, Chechnya, Afghanistan, Iraq, Israel, Macedonia, Indonesia, Uganda and Sierra Leone. He has testified about war crimes to the US Senate, the Council of Europe and the International Criminal Tribunal for the former Yugoslavia (ICTY) in the Hague, and has written opinion pieces published in newspapers and magazines around the world.
ALICE GABRINER - International photo Editor at Time Alice Gabriner photo-edited the National section of Time from 2000 to 2003, then the International section from 2003 to 2009, including years of the Iraq war. After a five-year hiatus, as Deputy Director of Photography at the White House and as a Senior Photo Editor at National Geographic, Alice Gabriner is back at Time as the International Photo Editor.
SANTIAGO LYON Santiago Lyon has been working as a photojournalist for 30 years, covering news, and in particular conflicts around the world (El Salvador, the U.S. invasion of Panama, the first Gulf War, the former Yugoslavia, Somalia, Afghanistan and Syria). His work has been acclaimed by many awards. He joined the Associated Press in 1991, and after 25 years with the AP, during which he held different positions, he has now decided to move onto another stage in his career.
CHRISTOPHER MORRIS - photographer Noted, inter alia, for his coverage of the Balkans and work on the US elections. He is one of the founding partners of the agency VII.
DARCY PADILLA - photographer, Agence VU' Darcy Padilla is a documentary photographer and photojournalist renowned for her work on social issues, such as her award-winning "Julie Project" extending over a number of years. More recently she did exclusive coverage for Le Monde of the 2016 U.S. presidential elections. She has won many grants and awards (Canon Female Photojournalist Award, three World Press Photo Awards, Getty Images Grant, the W. Eugene Smith Grant for Humanitarian Photography among many others), and has taught and conducted workshops on documentary photography.
JOÃO SILVA - photographer, The New York Times Joao Silva, a member of the famous Bang-Bang Club, has covered many wars and conflicts over the past twenty years; he was seriously injured in Afghanistan in October 2010.